Automated SEO Software: 7 Best Tools to Boost Your Efficiency
Do you need to catch up on routine SEO tasks? Automatic SEO software is your answer. However, with many small business SEO platforms available, deciding which is right for you can take time and effort. 
This article will provide an overview of the best SEO automation tools today designed to help save time and improve efficiency while optimizing your website. We'll discuss various features, pricing models, pros, and cons so that you can decide which tool is best suited for your needs. Let's dive into it!
What is SEO Automation?
SEO automation is the use of technology to automate SEO tasks. SEO involves optimizing websites and online content to improve their visibility and rankings in search engine results.
However, it can be a time-consuming and complex process, which is where automation comes into play.
SEO automation automates specific mundane and repetitive SEO tasks using specialized software or tools. These tasks may include keyword research, on-page optimization, content creation, link building, performance tracking, and reporting.
By automating these tasks, SEO professionals and website owners can save time and effort, allowing them to focus on more strategic aspects of their SEO efforts.
However, it's important to note that automation is not a substitute for human expertise and creativity.
While automation can handle repetitive tasks, human input is still crucial for strategic decision-making, content quality, and adapting to dynamic search engine algorithms. Combining automation with human insights and skills is the key to successful SEO campaigns.
What parts of SEO can we automate?
There are four main parts of SEO that we can automate:
Competitor monitoring.
Rank tracking.
Backlink analysis.
Site monitoring.
1. Competitor monitoring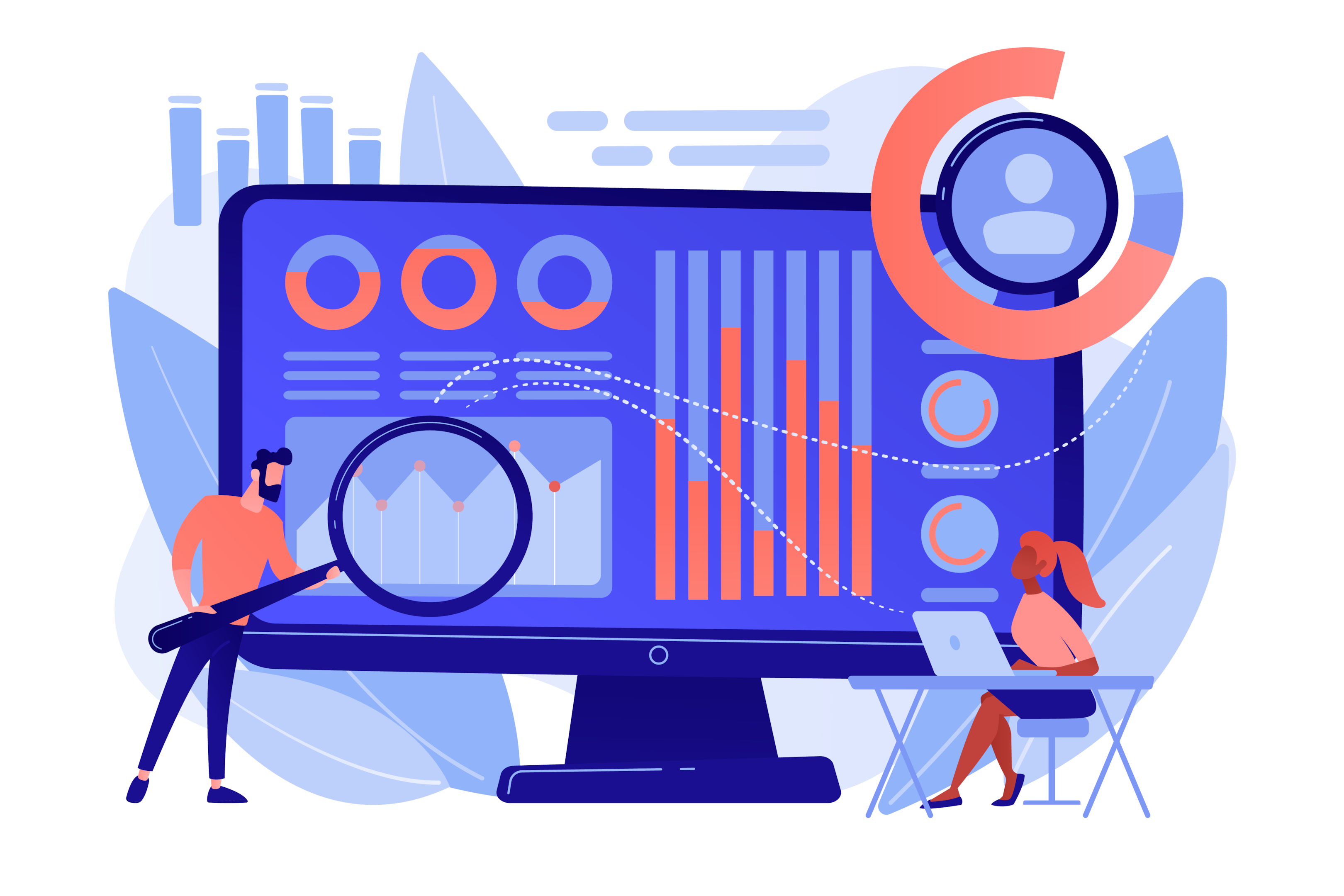 Competitor monitoring is essential to monitoring your competitors' online activities and SEO strategies. By monitoring your competitors, you can gain valuable insights into their tactics, identify areas where they excel, and discover opportunities to improve your website's performance.
In the realm of SEO automation, there are tools and software available that can streamline and simplify the process of competitor monitoring. These automation tools can save you significant time and effort by automatically gathering data and generating reports on your competitors' activities.
Keyword analysis
One way automation can assist with competitor monitoring is through keyword analysis.
These tools can analyze the keywords your competitors are targeting, their search volumes, and the rankings they achieve.
By knowing which keywords your competitors are ranking well for, you can discover new keyword opportunities for your website or identify gaps in your current keyword strategy.
Analyze content strategies
In addition, automation can also aid in monitoring your competitors' content strategies. These tools can analyze the type of content your competitors produce, the topics they cover, and the engagement their content receives.
By understanding what content resonates with your competitors' audience, you can gain inspiration for your content creation efforts and develop a more targeted content strategy.
2. Rank tracking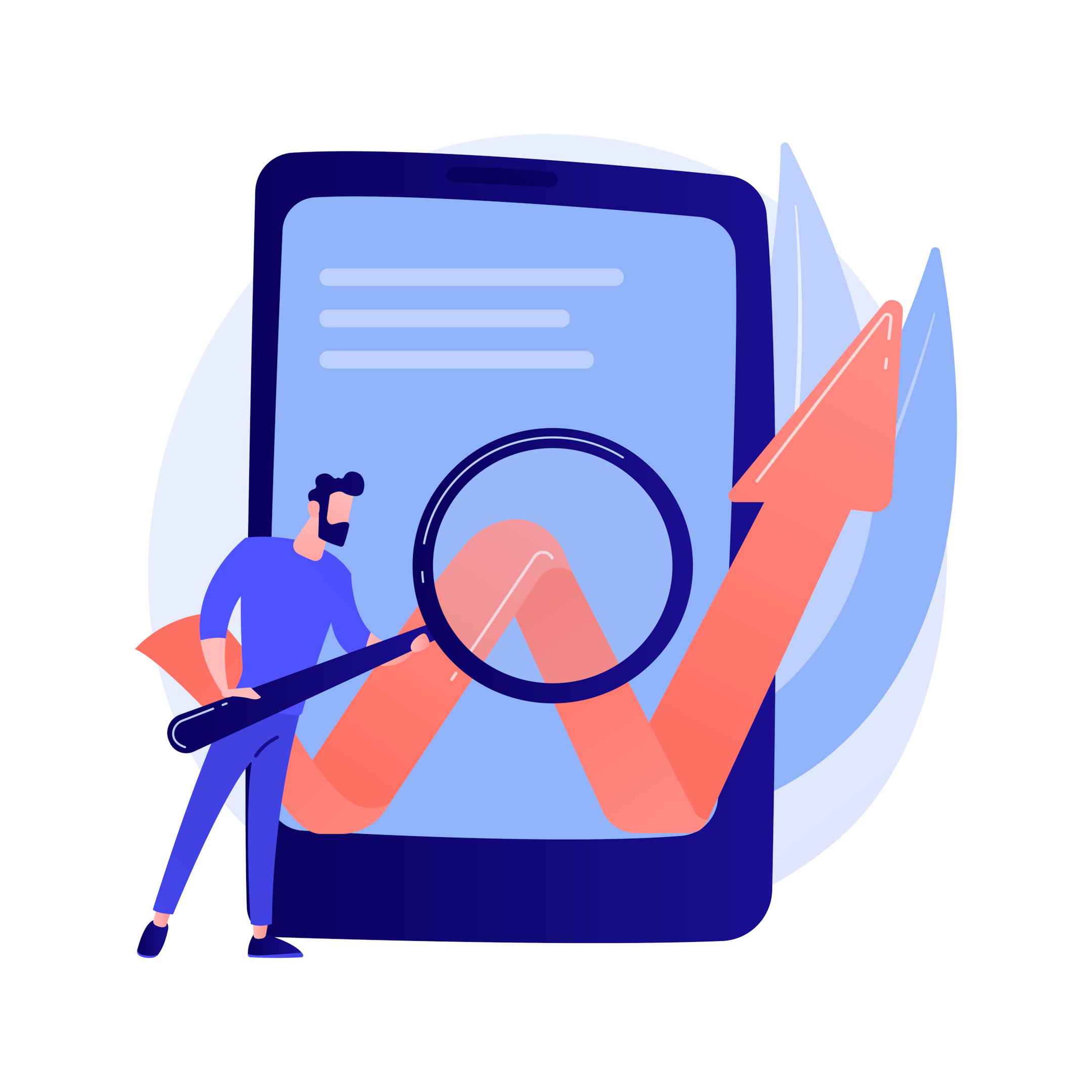 Rank tracking is an integral part of SEO that involves monitoring the positions of your website's pages in search engine results pages (SERPs) for specific keywords. It lets you keep tabs on your website's visibility and track its progress over time.
While rank tracking can be time-consuming, automation has made it much more efficient and manageable.
With the help of SEO automation tools, you can automate tracking keyword rankings for your website. These tools continuously monitor the SERPs for your target keywords and provide you with regular updates on your website's ranking positions.
By automating this task, you can save valuable time and effort in manually checking rankings.
Track keywords
The automation tools enable you to set up and manage keyword-tracking campaigns. You can input your target keywords, select the search engines and locations you want to track and specify the frequency of updates.
The tools will then regularly fetch the rankings for your chosen keywords and provide you with detailed reports. These reports offer valuable insights into your website's performance in search results.
You can see the specific positions of your pages for each keyword, along with historical data that tracks changes over time.
By examining these trends, you can evaluate the impact of your SEO work and identify areas where you need to make adjustments.
Visibility score
Furthermore, rank-tracking automation tools often offer additional features that enhance the analysis of your website's rankings.
For example, they may provide visibility scores that measure the overall visibility of your website in search results, taking into account multiple ranking positions and search volumes. These scores give you a comprehensive view of your website's performance and help you prioritize your optimization efforts.
3. Backlink analysis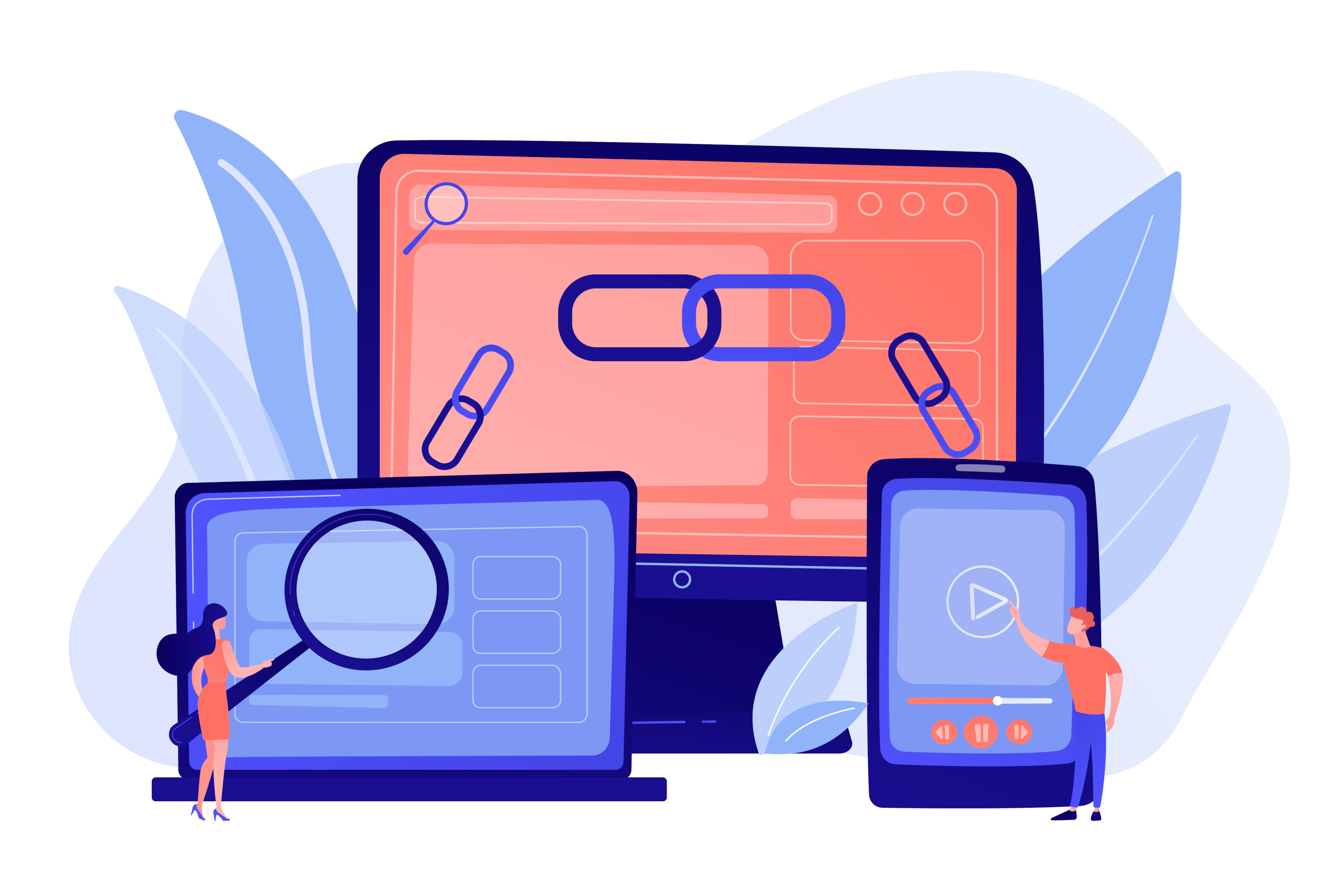 Backlink analysis is a vital component of SEO which involves examining the links pointing to your website from other domains. Understanding your backlink profile helps you evaluate the quality, relevance, and overall impact of these links on your website's visibility in search engine results.
Thankfully, automation has made backlink analysis more efficient and accessible. Automation tools designed for backlink analysis can significantly streamline the process.
Comprehensive backlink analysis
These tools utilize advanced algorithms to crawl the web, gather data about your backlinks, and provide you with comprehensive reports.
The tools analyze various factors such as domain authority, page authority, anchor text, and relevancy of the linking domains. With the help of automation, you can quickly gather information about the quantity and quality of your backlinks.
By automatically assessing these metrics, you can clearly understand the strength of your backlink profile and identify areas that require improvement.
Detect toxic backlinks
Automation tools can also help you identify and evaluate toxic or spammy backlinks. These are links that could potentially harm your website's SEO performance.
Backlink analysis automation can flag such links by assessing the domain's reputation, link quality, and potential red flags. By identifying and disavowing these toxic backlinks, you can protect your website from potential penalties and maintain a healthy backlink profile.
Provides comprehensive reports
Additionally, automation tools often offer features that provide an in-depth analysis of your backlink profile.
They can generate reports that highlight key metrics, such as the distribution of anchor texts, link types (e.g., dofollow or nofollow), and the diversity of linking domains. This information enables you to understand your backlink profile holistically and make data-driven decisions to enhance your SEO strategy.
4. Site monitoring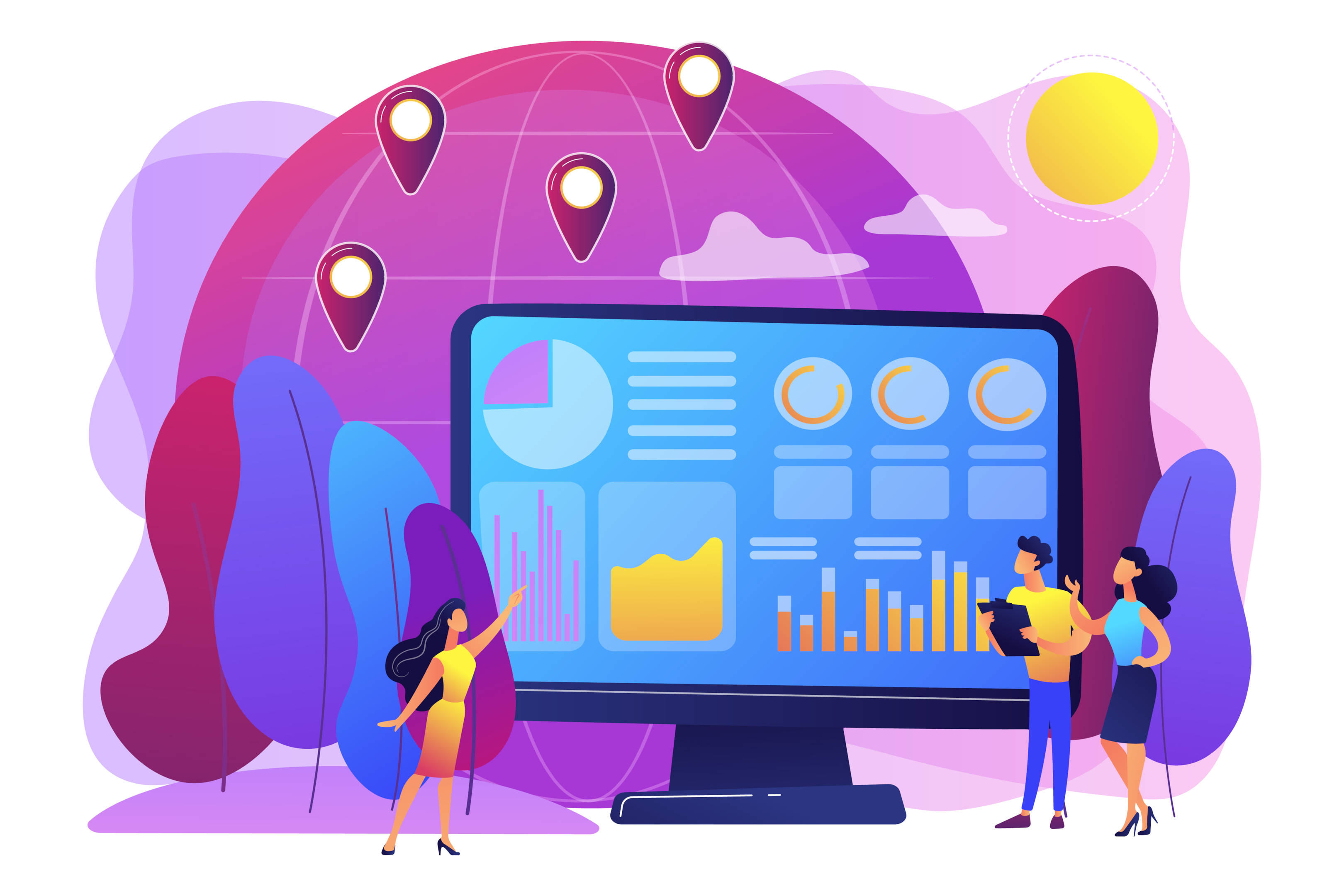 Site monitoring involves checking the performance and health of your website. It ensures that your website is functioning optimally, delivers a great user experience, and remains accessible to both users and search engines. Thanks to automation, site monitoring has become much more efficient and manageable.
Automation tools designed for site monitoring can regularly scan your website, identify issues, and provide you with valuable insights and alerts. These tools continuously monitor various aspects of your website, saving you time and effort by automating the process.
Detect broken links
One of the critical areas that automation can assist with is checking for broken links. Broken links can negatively impact user experience and SEO.
Promptly fixing broken links can enhance user satisfaction and improve your website's credibility. Automation SEO tools can scan your website and identify broken links, ensuring visitors can navigate your site without encountering frustrating dead ends.
Improve performance
Automation can also help monitor website performance and speed. These tools analyze your website's loading times and assess factors affecting its performance, such as large file sizes or slow server response times.
By identifying performance bottlenecks, automation allows you to optimize your website's speed and ensure a smooth browsing experience for your visitors.
Detect crawling issues
Furthermore, site monitoring automation can check for crawl errors and indexing issues. It can identify pages inaccessible to search engine bots or encounter errors during the crawling process.
By receiving alerts on such matters, you can promptly address them and ensure that search engines properly index your website's content.
Ensure your website is safe
Security is another crucial aspect of site monitoring. Proactively identifying and addressing security issues can safeguard your website and protect sensitive user information.
Automation tools can scan your website for vulnerabilities, malware, or other security threats.
What are the 7 best SEO Automation tools to Increase efficiency? 
1. Plerdy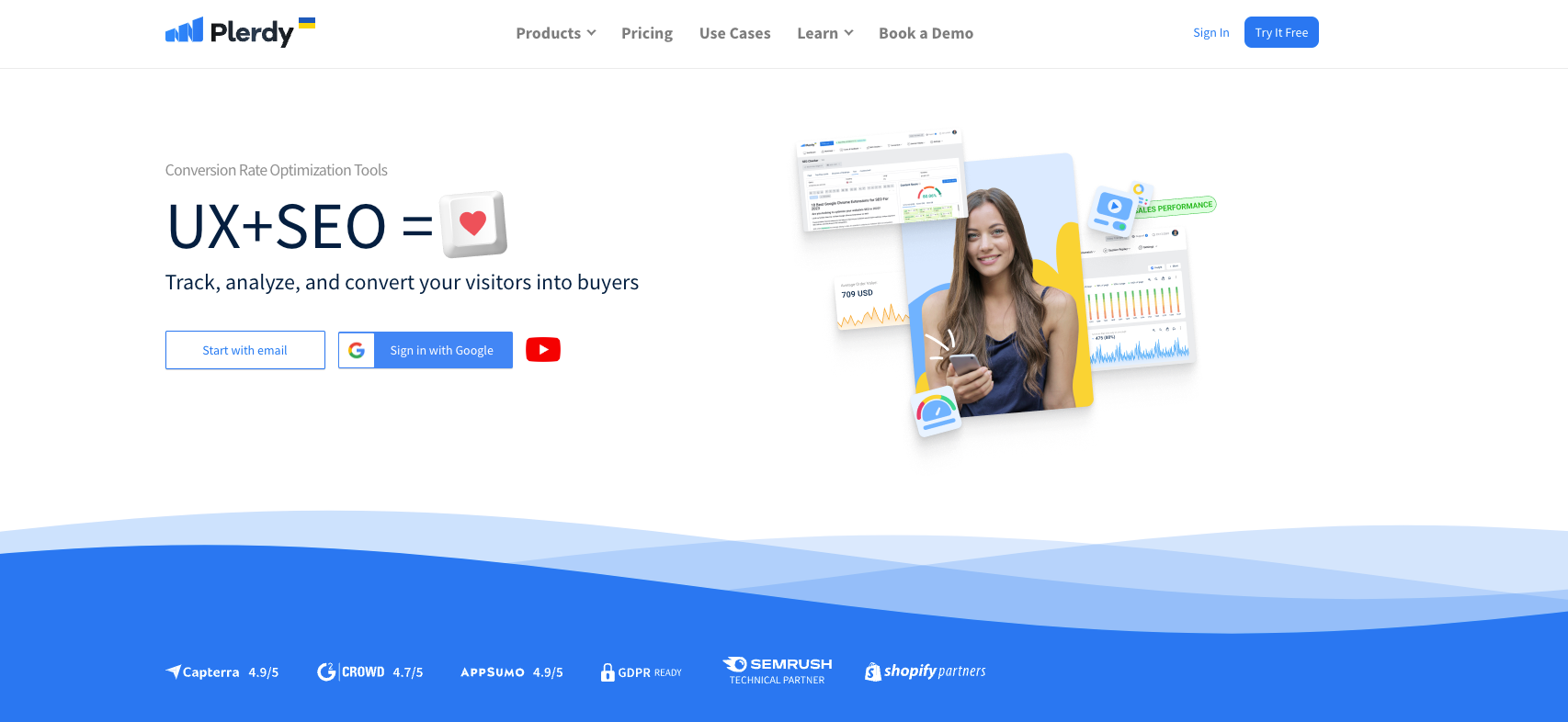 I recently had the opportunity to try Plerdy, and it has truly impressed me as a comprehensive and effective SEO automation software.
Plerdy offers a range of powerful features that can help you streamline your SEO work and achieve better results in less time.
Key benefits
Page Semantics Analysis: You can analyze your pages' text and receive data regarding the article's length, the uniqueness of words, readability Flesch score, etc.
SEO health analysis: You can monitor your site's conversion rate with this feature.
Technical SEO: Plerdy allows you to conduct technical SEO audits and determine which web pages have SEO errors.
Google Search Console Integration: You can integrate Plerdy with GSC, and the SEO checker tool will automatically identify the keywords in the top 100 sites but not in your articles.
Relevance: You can fully optimize your site by adding relevant keywords to page titles, meta descriptions, and the content of your articles.
Intuitive design: The software is easy to navigate, and the reports and insights are presented in a clear and actionable manner. It's simple to set up campaigns, track rankings, and analyze data, even for a non-technical user.
Price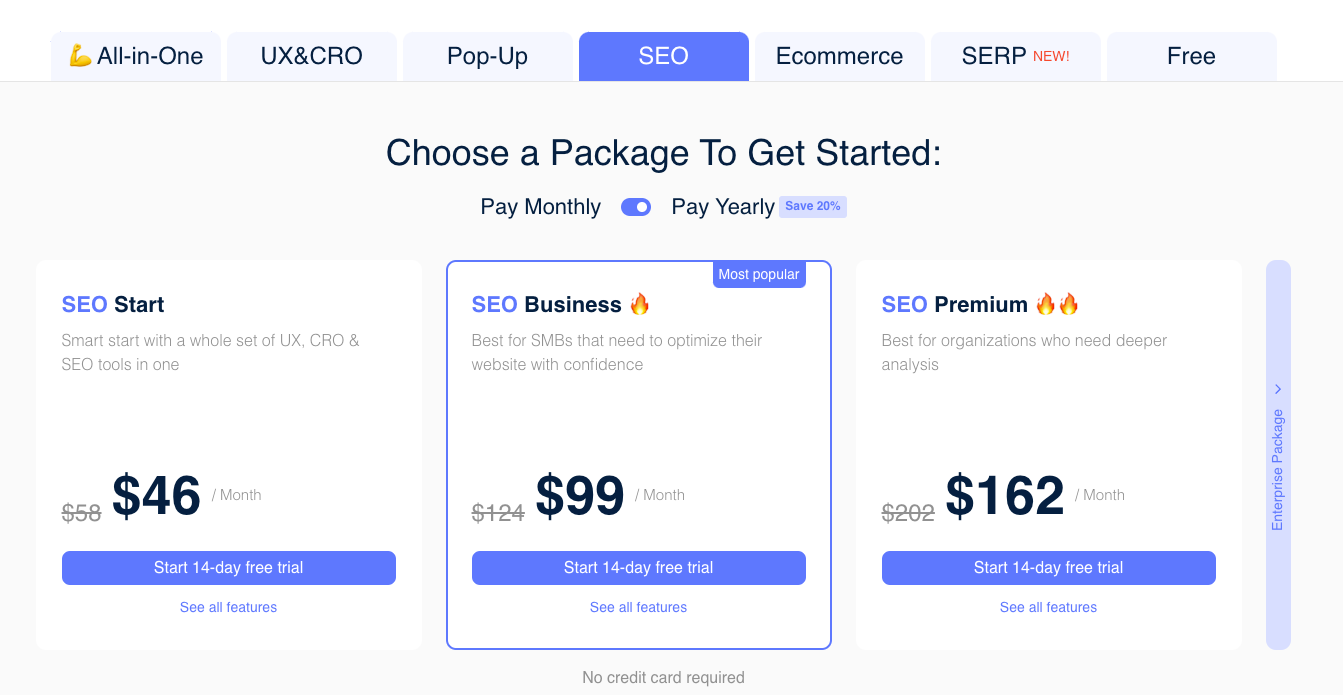 Plerdy offers 3 pricing options for the SEO package: 
SEO Start: $58/month for the monthly plan and $46/month for the annual plan.
SEO Business: $124/month for the monthly plan and $99/month for the annual plan.
SEO Premium: $202/month for the monthly plan and $162/month for the annual plan.
You can also try the software for free in 14 days.
Pros
A comprehensive SEO automation software that enhances Search Engine Optimization.
Powerful keyword research tool.
Easy to use and intuitive.
Cons
Requires a steep learning curve to master the tool.
2.SpyFu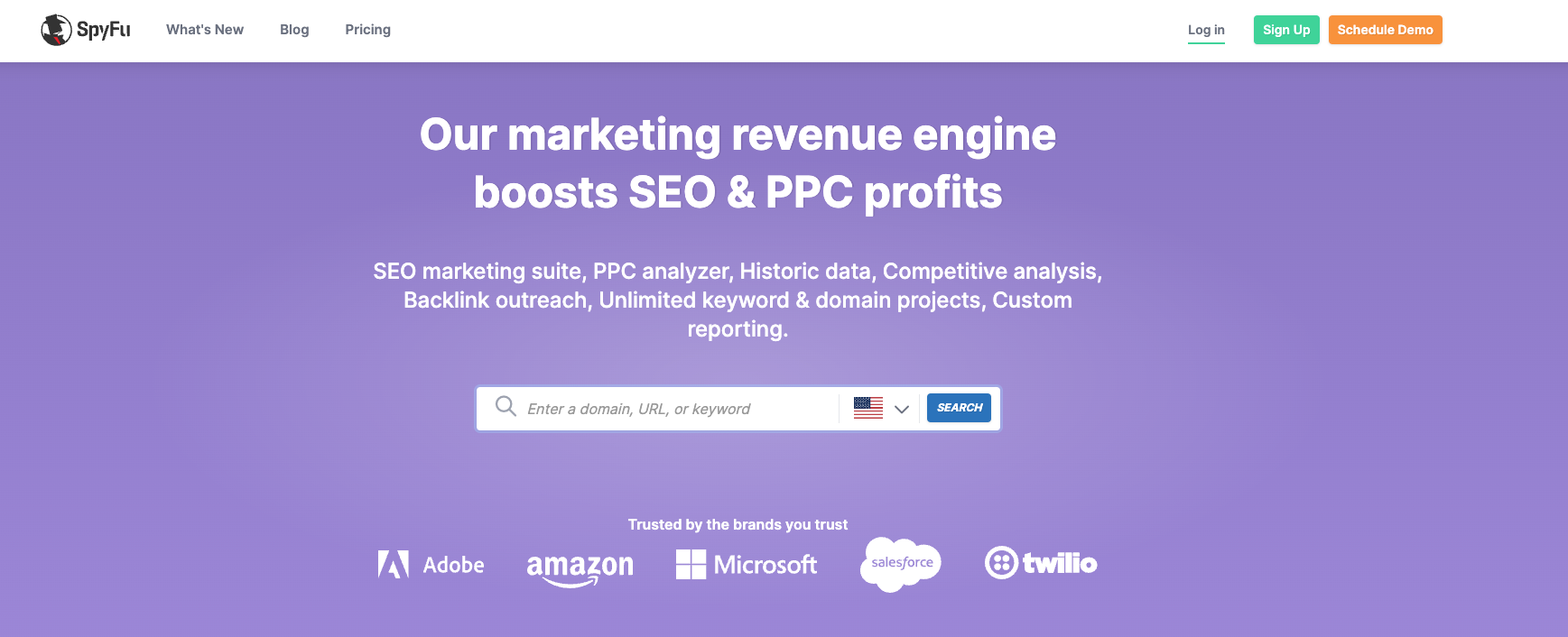 SpyFu is an outstanding SEO automation tool. SpyFu offers a comprehensive suite of features that leverage the power of automation to help users achieve SEO success more efficiently and effectively.
Key benefits
Competitor Analysis: The software lets you gain deep insights into your competitors' strategies, including their top-performing keywords, ad campaigns, and backlink profiles.
SpyFu empowers you to uncover valuable data and opportunities to outperform your rivals.
Keyword Research: SpyFu's advanced algorithms and comprehensive database enable you to discover new keywords your competitors rank for.
SpyFu makes it easy to identify lucrative keyword opportunities and optimize content to target the right audience effectively.
Backlink Analysis: The platform automatically scans and analyzes backlink profiles, helping you assess the quality, relevance, and impact of your backlinks.
You can refine your link-building strategies by gaining valuable insights into your competitor's backlinks.
PPC (Pay-Per-Click): SpyFu automates the process of monitoring competitors' ad campaigns, revealing the keywords they are bidding on, their ad copy, and even their budget.
This automation helps you stay ahead of the competition and optimize your own PPC campaigns for maximum ROI.
Price
The platform offers 3 pricing options: 
Basic: $39/month for the monthly plan and $16/month for the annual plan.
Professional: $39/month for the monthly plan and $36/month for the annual plan.
Team: $299/month for the monthly plan and $149/month for the annual plan.
SpyFu also offers a 30-day money-back guarantee. So you can try the software as much as you want without risk! So what are you waiting for? Try SpyFu today!
Pros
Offers a powerful keyword research tool.
Provides an attractive price.
Offers deep PPC and Ad Campaign analysis.
Cons
The analysis of data can be complicated for beginners.
No crawling for the entire web.
3. SEO PowerSuite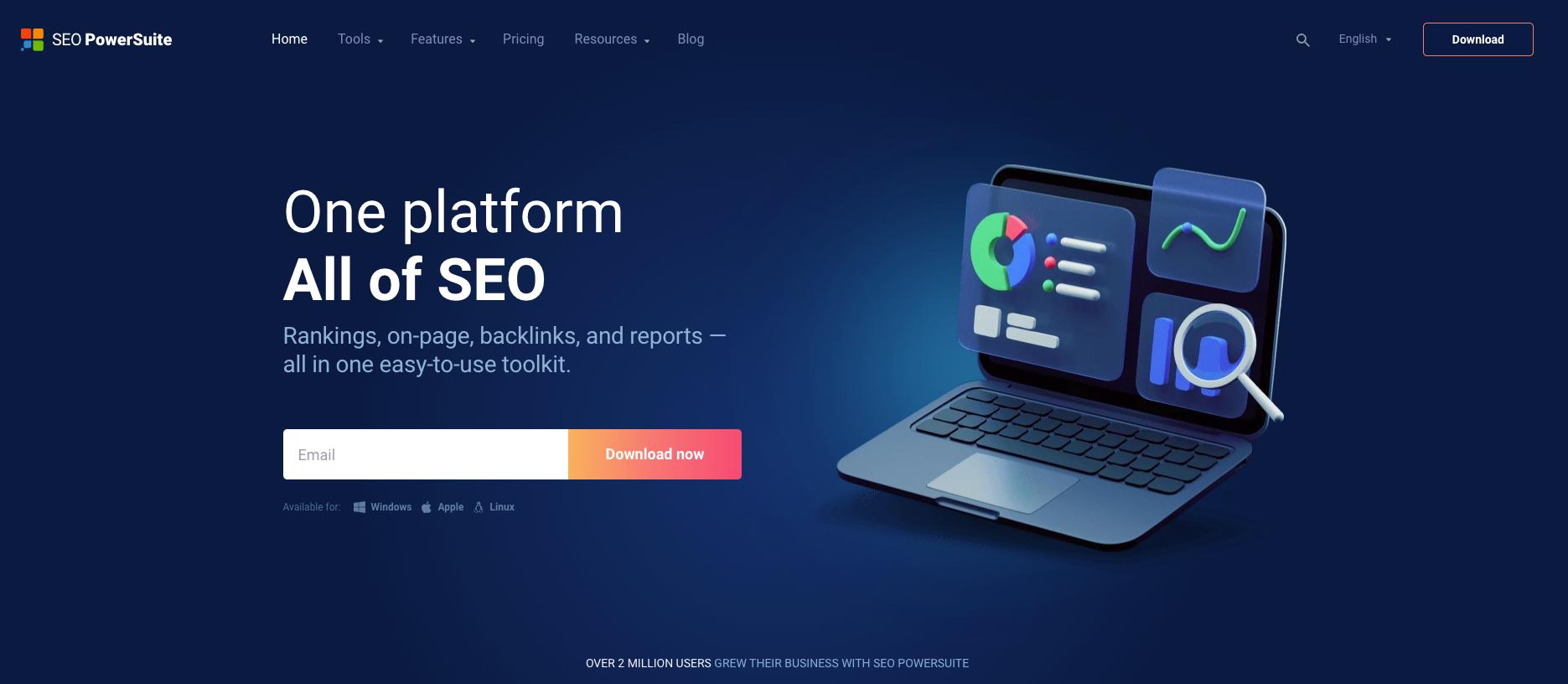 Having extensively used SEO PowerSuite, I can confirm it is the best SEO software available.
With its comprehensive suite of features, SEO PowerSuite can help you automate routine SEO tasks effectively.
Key benefits
Rank Tracker: The tool automates the process of tracking keyword rankings across search engines.
With scheduled rank checks and customizable reports, you can effortlessly monitor your site's performance in search results and gain valuable insights into your keyword strategies.
Website Auditor: SEO PowerSuite helps you automate website audits. It scans your website for technical issues, broken links, duplicate content, and other on-page optimization factors.
With these analyses, you can identify and resolve critical problems hindering your website's performance and search engine visibility.
SEO SpyGlass: This tool takes care of backlink analysis, automatically crawling and analyzing the link profiles of your website and competitors.
It provides valuable insights into backlink quality, anchor text distribution, and potential link-building opportunities.
Link Assistant: This feature automates the process of link prospecting and outreach. You can discover new link-building opportunities, manage outreach campaigns, and track progress by leveraging automation.
SEO PowerSuite helps you efficiently build high-quality backlinks, enhancing your website's authority and search engine rankings.
Price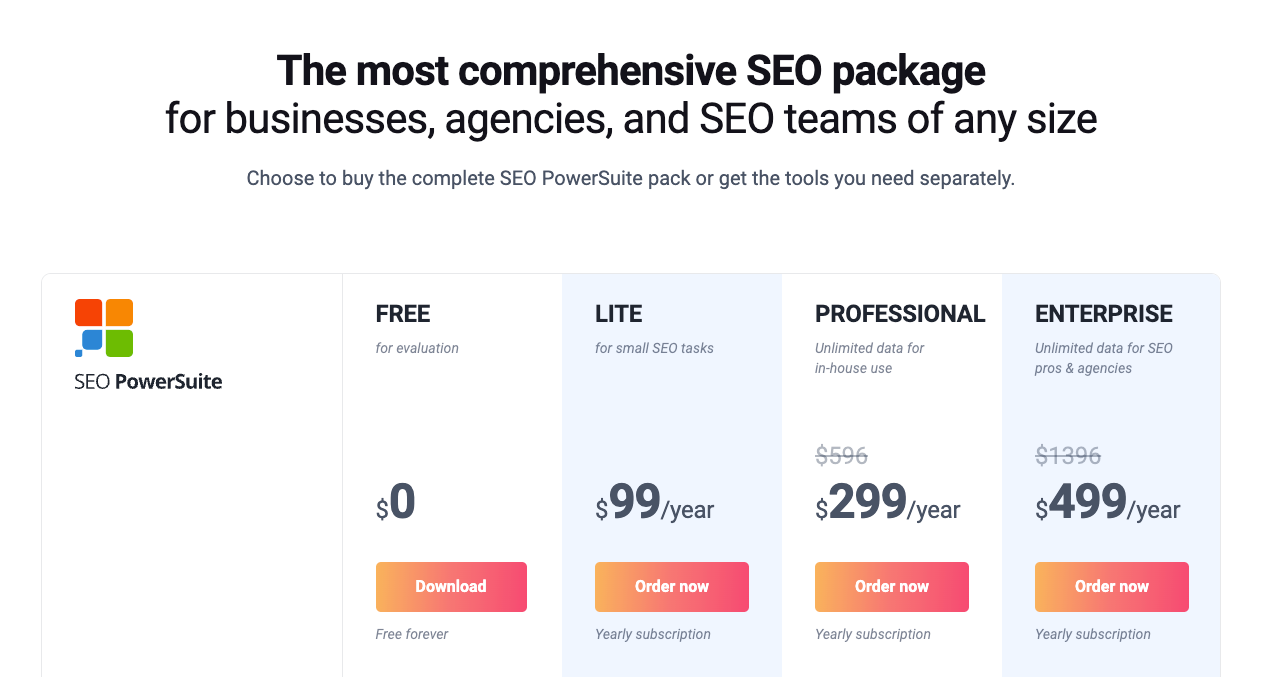 SEO PowerSuite offers 3 different pricing plans: 
Free: Completely free!
Professional: $299/year for the 1-year plan, $239/year for the 2-year plan, $199/year for the 3-year plan.
Enterprise: $499/year for the 1-year plan, $399/year for the 2-year plan, $333/year for the 3-year plan.
Pros
Streamlines outreach campaigns with Link Assistant.
Performs in-depth website analysis.
Cons
Only offers an annual plan, which requires commitment when you start your purchase.
4.LongTailPro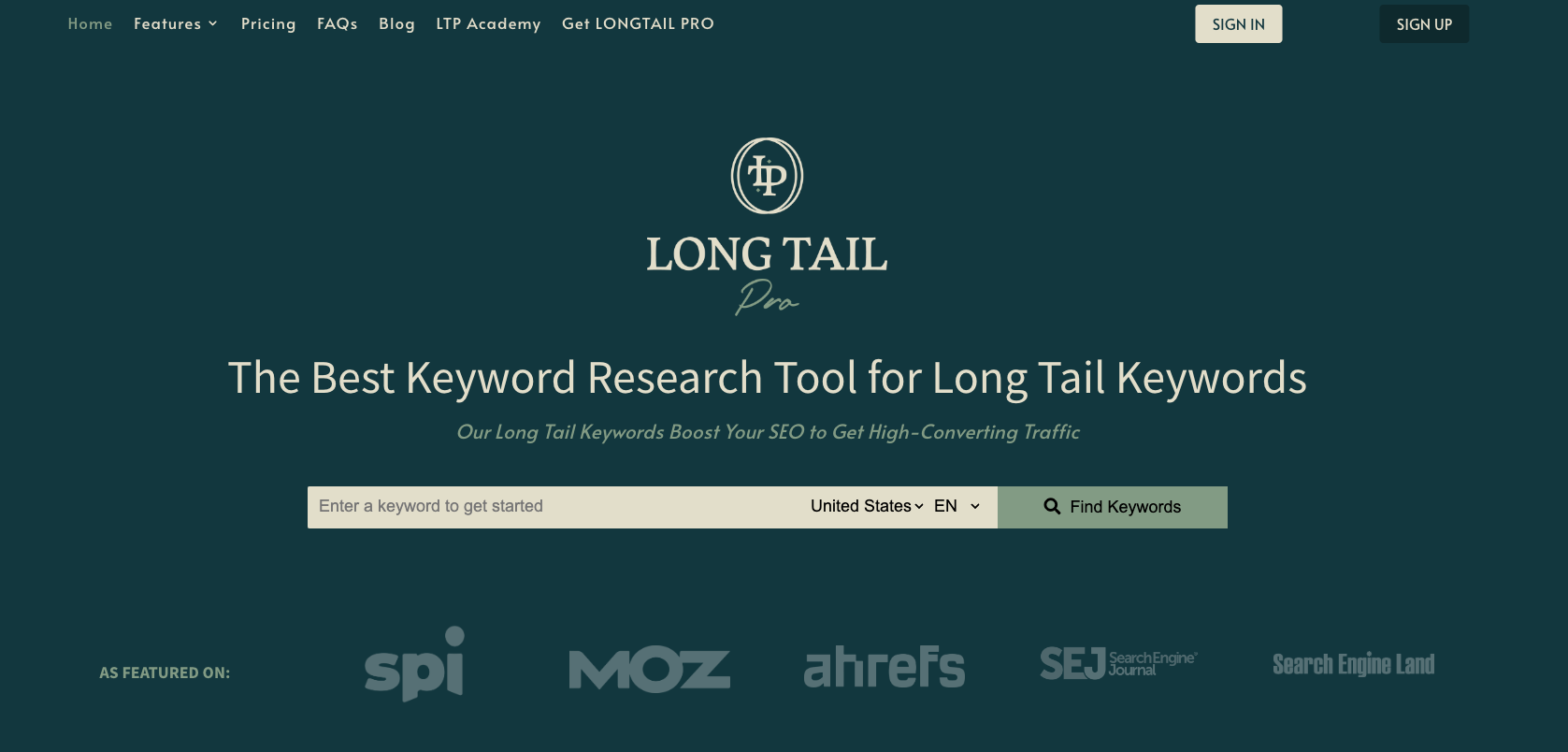 LongTailPro is a great SEO automation tool.
With its powerful features and advanced automation capabilities, LongTailPro empowers users to achieve exceptional SEO results efficiently and effectively.
Key benefits
Keyword Research: LongTailPro stands out for its long-tail keyword research. The software excels in automating the process of discovering low-competition, high-converting keywords.
Competitor Analysis: LongTailPro's Competitor Keyword Suggestion is impressive. The tool automates analyzing competitor websites, giving you valuable insights into your competitors' keyword strategies.
Rank Tracking: The rank tracking capabilities of LongTailPro are top-notch. The software automates the tracking of keyword rankings across search engines, providing you with detailed reports and insights.
Site Audit: You can conduct Technical SEO audits with LongTailPro with ease.
Backlink Analysis: This tool helps you track and analyze backlink profiles.
SERP Analysis: The feature helps you identify in-depth analysis and outrank your competitors.
Price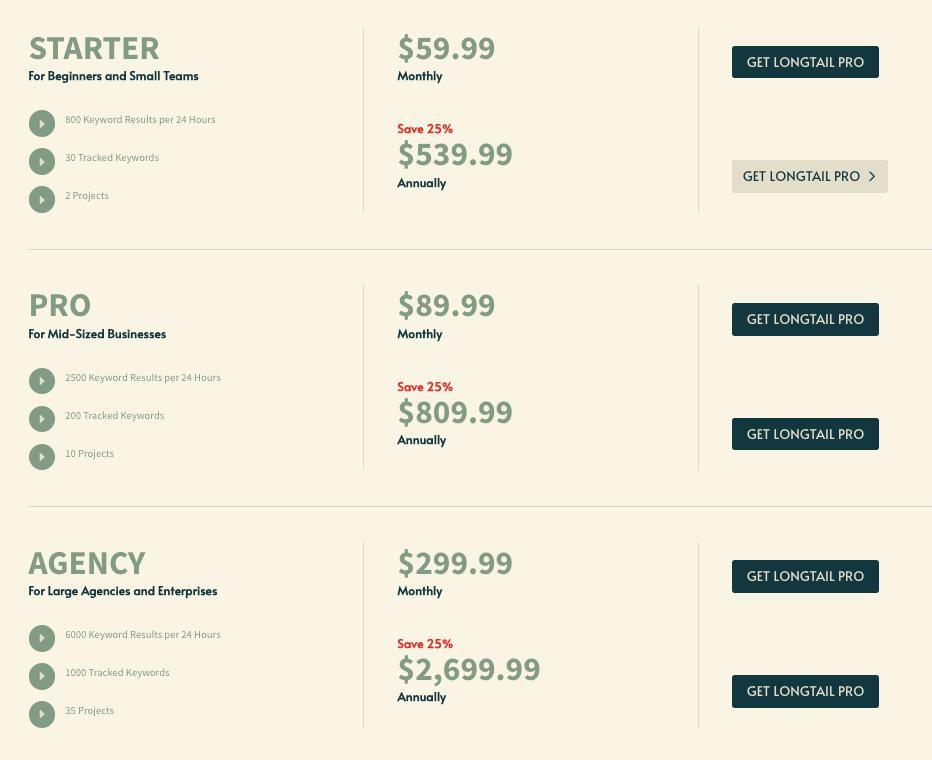 The software provides 3 pricing options: 
Starter: $59/month for the monthly plan or $539.99/year for the annual plan.
Pro: $89.99/month for the monthly plan or $809.99/year for the annual plan.
Agency: $299.99/month for the monthly plan or $2699.99/year for the annual plan.
Pros
Powerful long-tail keyword research tool that can help you get "quick wins".
Track keyword rankings efficiently.
Cons
Limited keyword database compared to other SEO tools.
5. Zutrix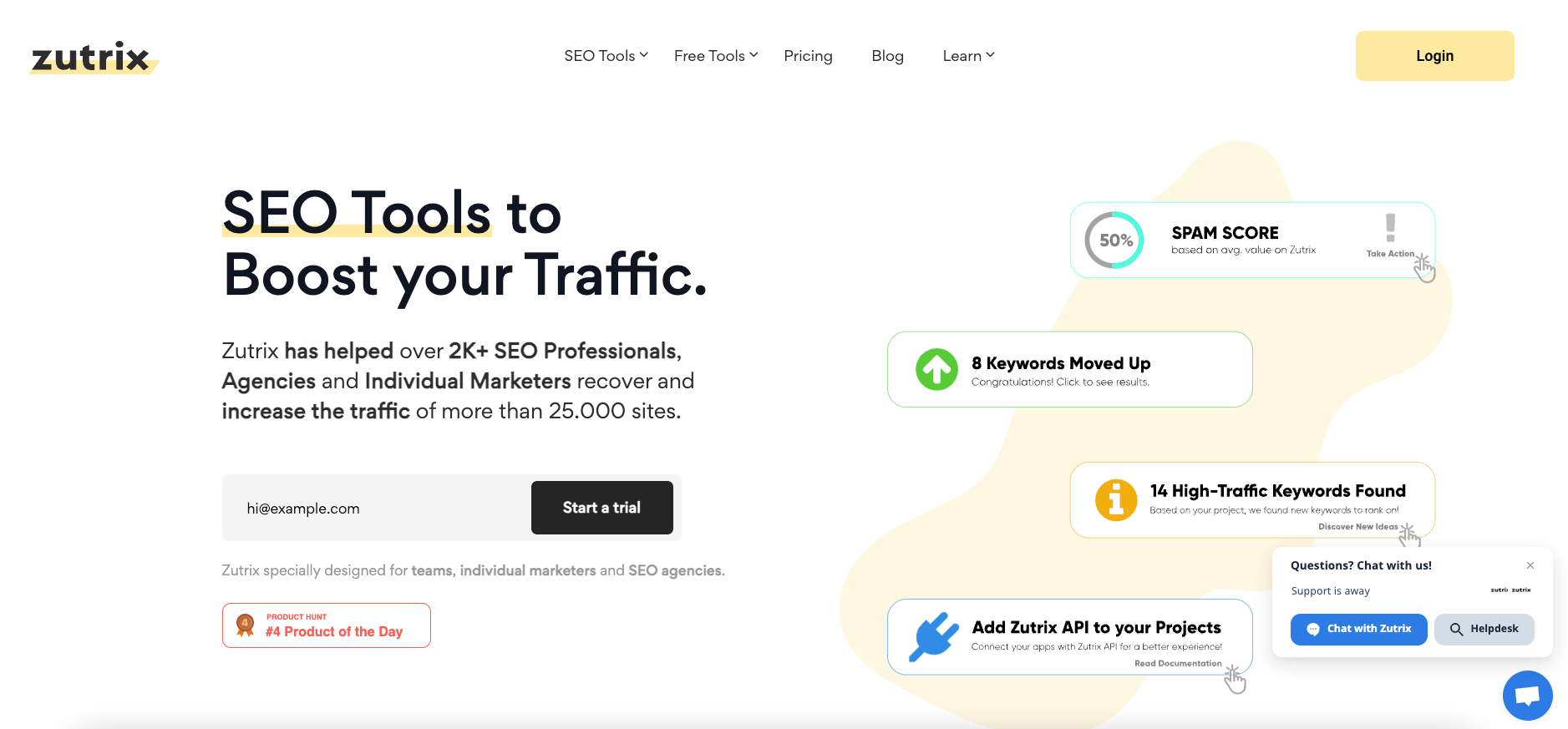 Zutrix is a robust SEO automated software available. With its solid features and advanced automation capabilities, Zutrix helps you optimize your search engine rankings and drive organic traffic effectively.
Key benefits
Rank Tracking: Zutrix is well-known for its accurate rank tracker. With its precise data and advanced analytics, you can monitor your keyword performance, identify trends, and make informed decisions to improve your website.
Keyword Research: With its comprehensive keyword database and advanced algorithms, you can find valuable keywords with high search volumes and low competition with ease.
Backlink Monitoring: Zutrix makes it easy to maintain a healthy backlink profile. The platform can track and notify you about new/lost backlinks every day. You can also easily disavow toxic backlinks that drag down your SEO performance.
User-friendly interface: Navigating through the software, accessing reports, and implementing SEO strategies is intuitive and seamless, even for beginners.
The platform's simplicity enhances productivity and allows you to focus on executing effective SEO tactics without getting overwhelmed by technical complexities.
Price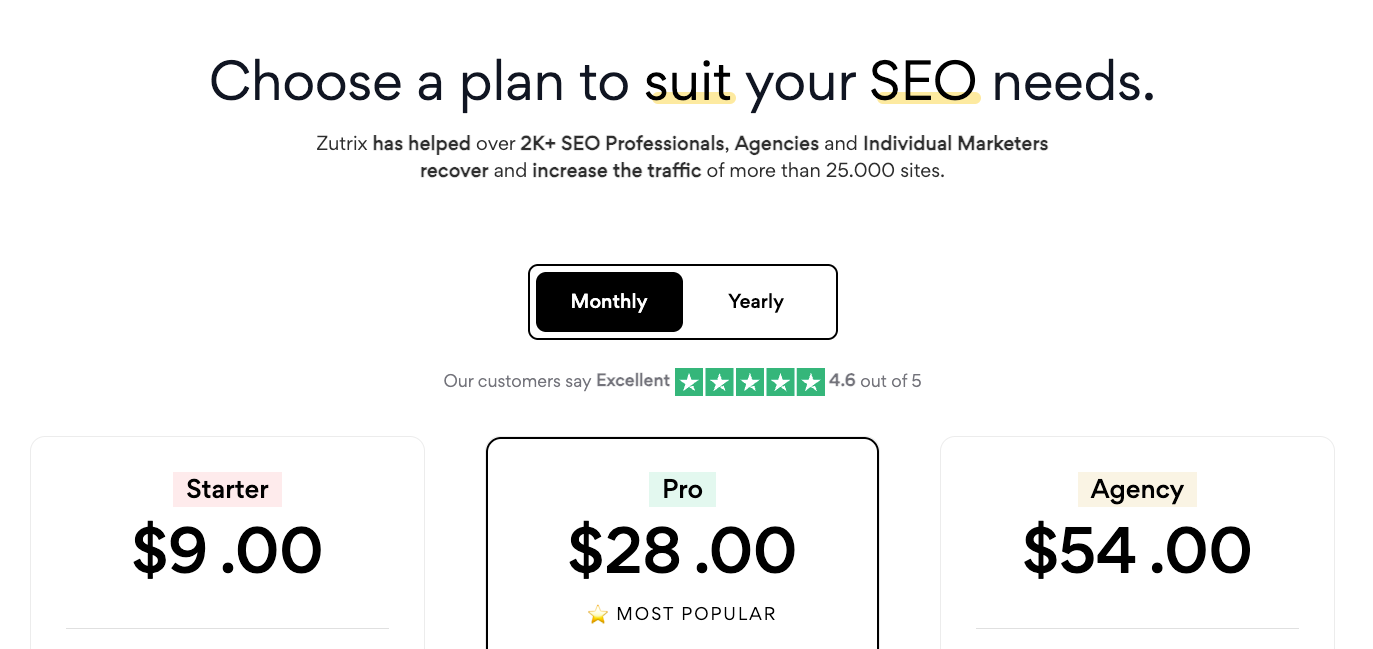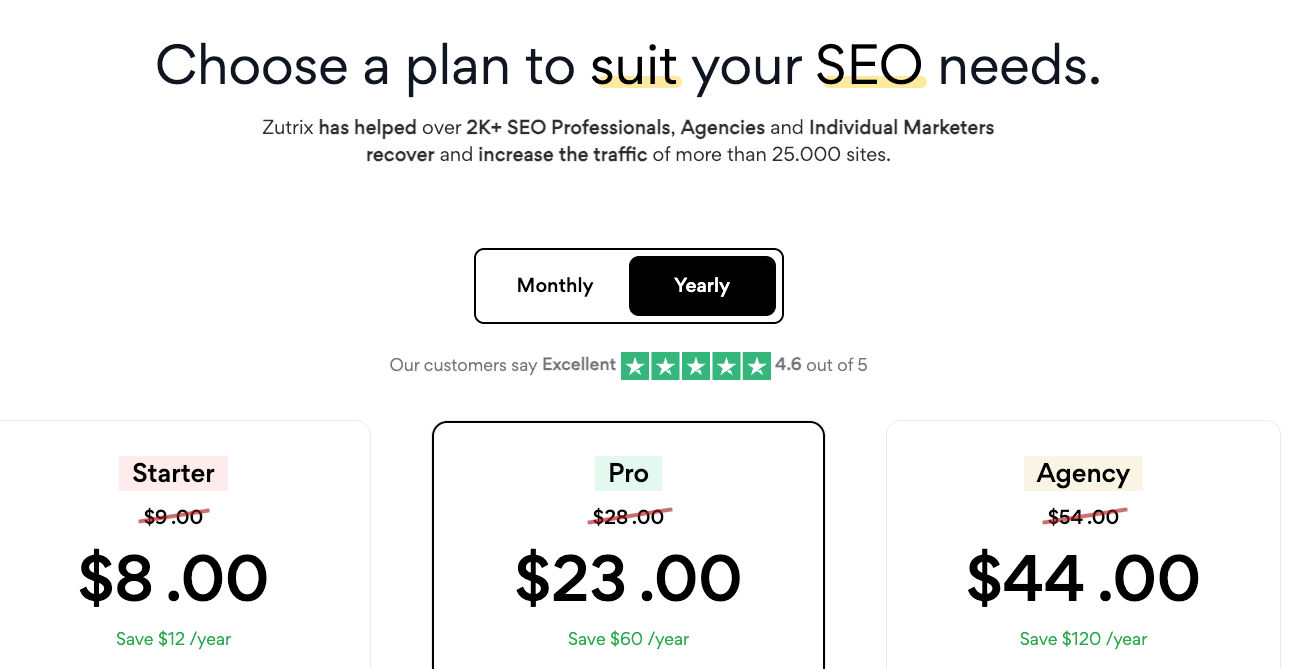 The platform offers 3 different pricing options: 
Starter: $9/month for the monthly plan and $8/month for the annual plan.
Pro: $28/month for the monthly plan and $23/month for the annual plan.
Agency: $54/month for the monthly plan and $44/month for the annual plan.
You can try the software for 7 days at just $7! You have nothing to lose, so feel free to try it out. You can contact them for special inquiries if you need a larger plan.
Pros
Comprehensive keyword research tool with rich data.
Accurate and real-time keyword rank tracking.
Affordable pricing plans with trials.
Cons
6. SE Ranking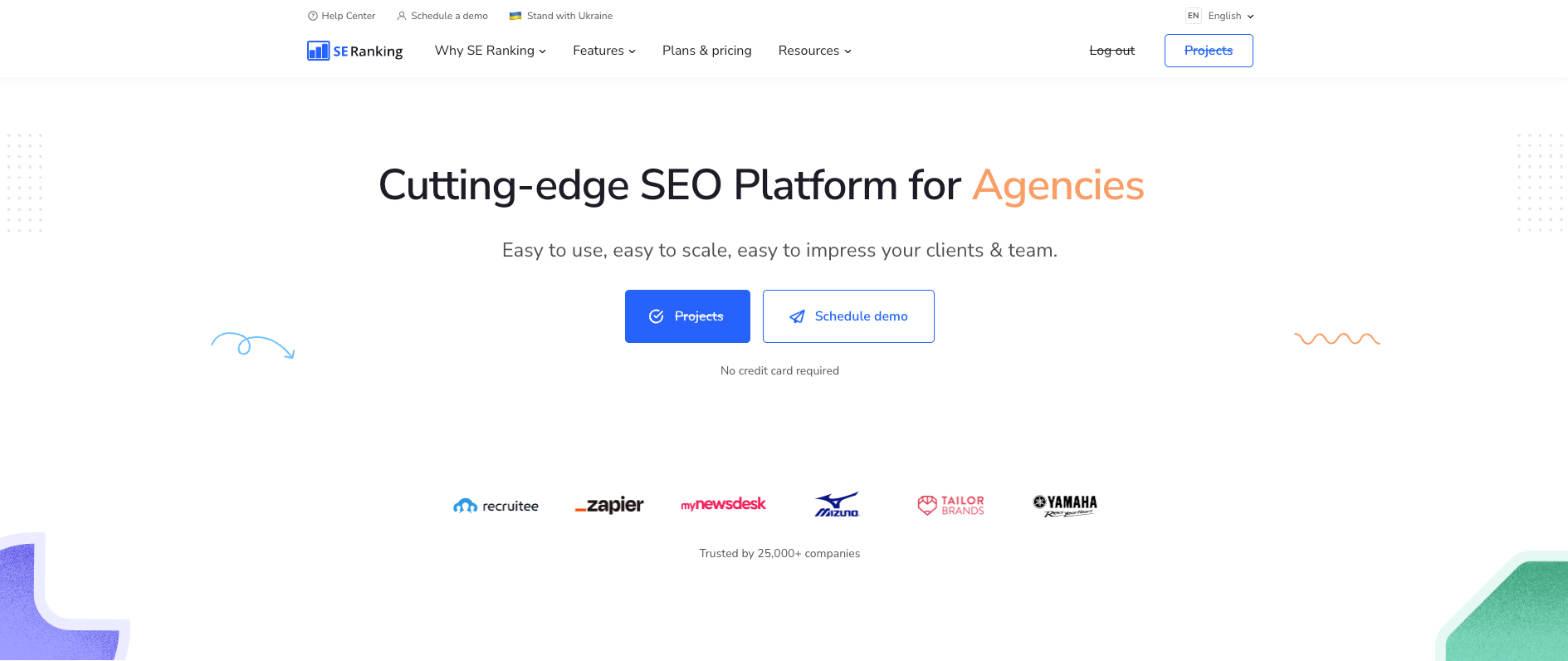 SE Ranking is an SEO-automated software that caters to every aspect of your business. 
This fantastic platform brings together all the elements of SEO seamlessly and efficiently.
Whether you're a seasoned expert or a newbie starting, SE Ranking offers an intuitive, user-friendly interface that makes mastering SEO a piece of cake!
Key benefits
Keyword Rank Tracker: Get extensive data about your website's rankings on various search engines. The data is highly accurate.
On-Page SEO Checker: The tool will scan and give you a list of things you can do to fix your webpage.
Website Audit: SE Ranking will quickly scan your website and provide tips to improve its performance.
Competitor Analysis Tool: This is an excellent feature of SE Ranking. They will automatically scan through all your competitors and give you all the data you need to outrank them.
Backlink Checker: You can analyze the backlink profile of any domain and build a strategy based on that.
Local Marketing Tool: Improve your Local SEO to rank higher in local search results.
Price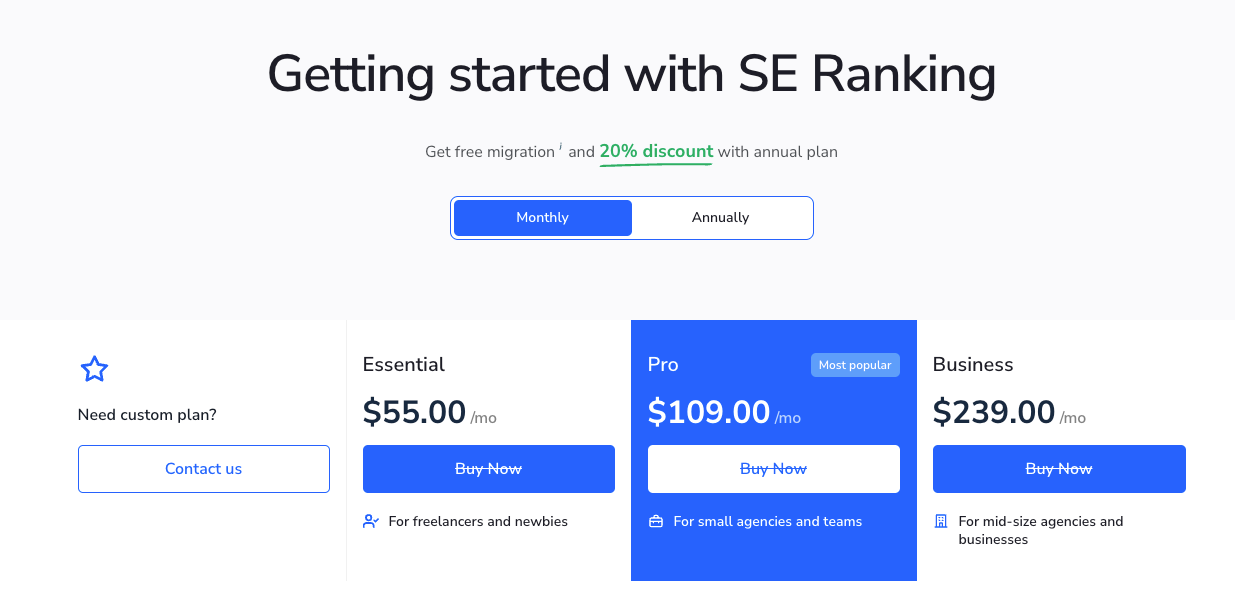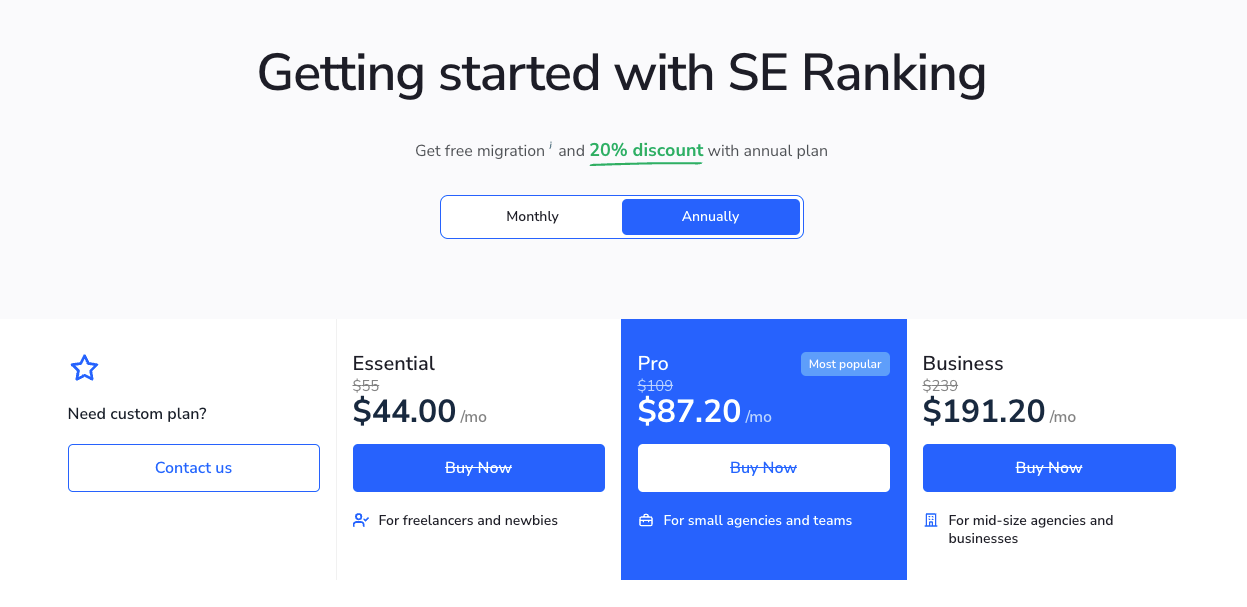 SE Ranking offers 4 pricing plans: 
Essentials: $55/month for the monthly subscription and $44/month for the annual subscription.
Pro: $109/month for the monthly subscription and $87.2/month for the annual subscription.
Business: $239/month for the monthly subscription and $191.2/month for the annual subscription.
Custom: A custom plan.
Pros
SE Ranking provides a comprehensive range of SEO features.
The software provides affordable pricing options.
It offers a 14-day free trial for users.
Cons
The keyword tracking feature is limited for low-tier plans.
You may need to pay for additional features.
7. Google Analytics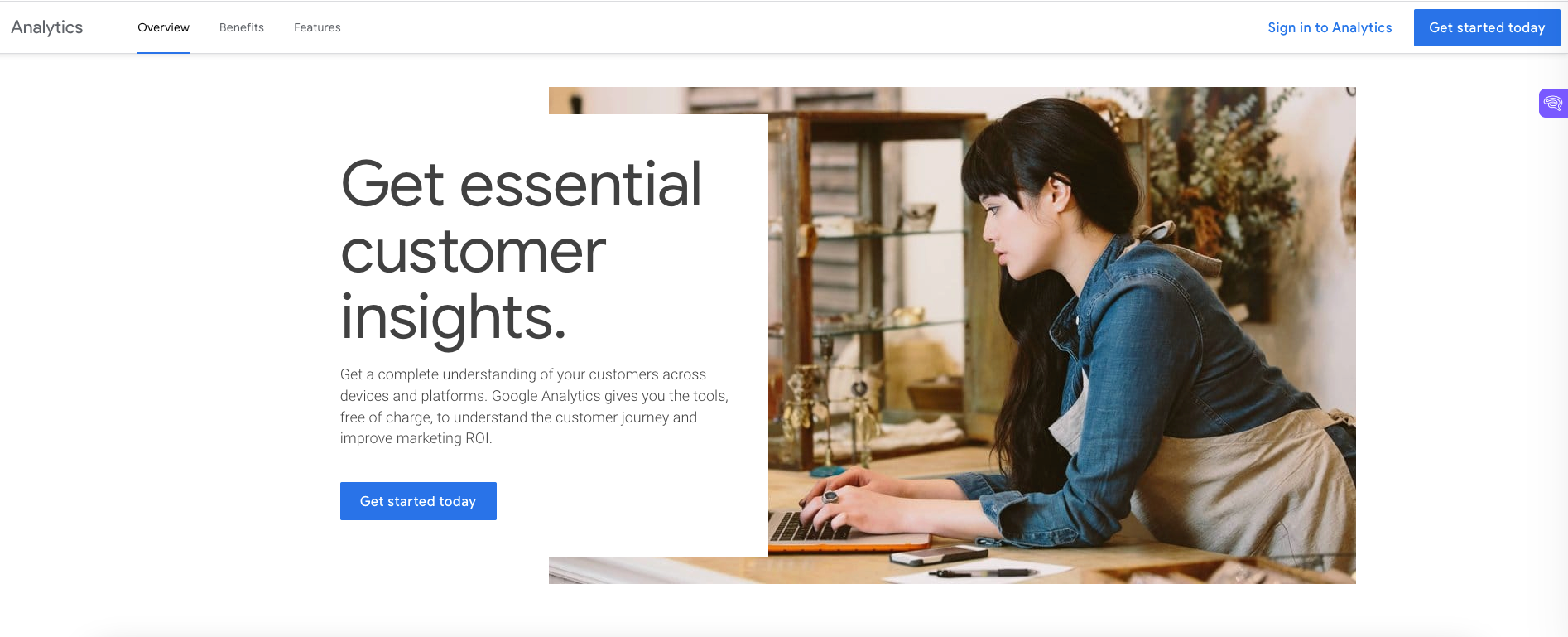 Google Analytics is a data treasure for businesses looking to optimize their SEO strategy.
The tool gives you everything you need for your website, from who's visiting, which pages are the most popular, to what elements of your site are working well.
You don't need to spend budget on expensive tools when you can achieve automated SEO analysis with GSC
Key Benefits
Traffic Reports: The tool provides insights into how your website is performing on Google. The tool dissects into your audience. You will learn much from your readers, including demographics and geographical location.
Bounce Rate: This feature helps you understand whether visitors find your website engaging. A high bounce rate might lead to issues like poor user experience or irrelevant content.
Conversion Tracking: With this feature, you can track a visitor's path to make a purchase or fill out a form on your site. This allows you to understand and optimize your conversion funnel.
Behavior Flow: This unique feature visualizes the path your visitors take through your website, helping you identify the content that resonates with your audience.
Price
The best part? Google Analytics is completely free of cost!
Pros
The tool provides many powerful automation SEO features.
It's user-friendly and easy to learn.
The software is FREE!
Cons
There's a lot of data to study. Thus, you need to know exactly what you are looking for.
The Horizon of SEO Automation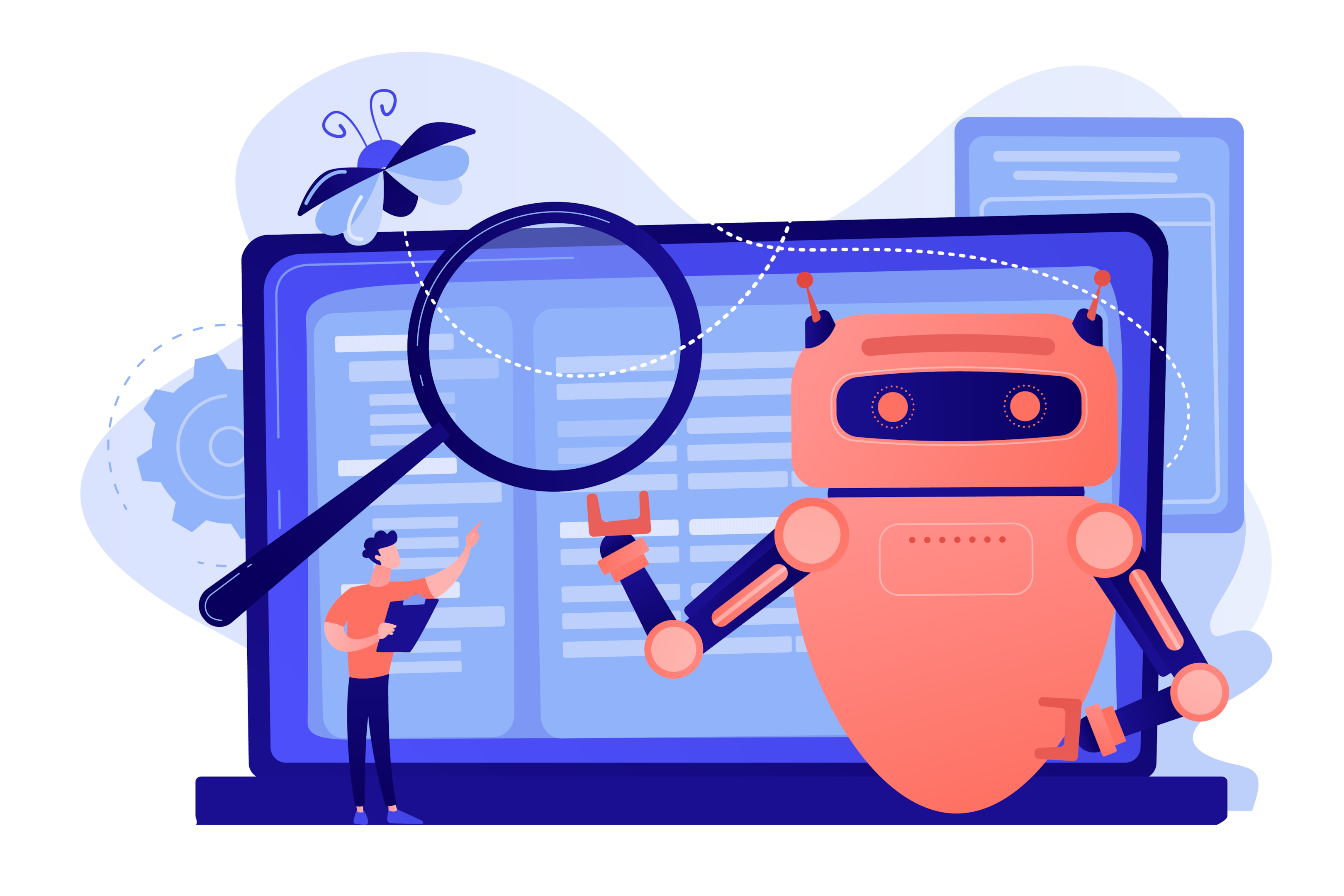 As SEO expands, you have more possibilities for optimizing websites and driving organic traffic. With machine learning, artificial intelligence, and sophisticated algorithms, SEO automation has evolved from a time-saving tool to a game-changer in digital marketing.
Today, SEO automation software can handle complex tasks such as rank tracking, keyword research, competitor analysis, backlink monitoring, and site optimization with remarkable efficiency and precision. These tools free up valuable time for SEO professionals and enhance the overall effectiveness of SEO campaigns.
With automation, tasks that once required hours of manual labor can now be accomplished in a fraction of the time, allowing businesses to stay competitive and adapt to ever-changing search engine algorithms.
The horizon of SEO automation is continually expanding, promising even more exciting developments in the future. As technology advances, we can expect further innovations to revolutionize how we optimize our online presence and improve search engine rankings.
FAQs
Can SEO be automated?
Yes. You can use software to perform repetitive search engine optimization tasks, saving you time executing SEO strategies.
What is automated SEO vs manual SEO?
Manual SEO is the process in which a team will apply various on-page and off-page SEO strategies to a site manually. On the other hand, automated SEO involves using software to execute SEO strategies.
How do I automate SEO?
You can use one of the SEO automation tools I mentioned above to help you with the process.
Latest posts by Tracy Mcgee
(see all)